Managed Service Providers (MSP) and System Integrators (SI) face a common challenge – administering email security as part of their service portfolio. As operating environments become more complex, MSPs and SIs need tools that can help them be more efficient and agile.
So let's take a look at what MSUI is and how it will help your business.
What is MSUI?
MSUI – Managed Service User Interface – is a Halon MTA add-on that has been specifically designed for SIs and MSPs. MSUI centralizes many common functions into a single interface so that key features can be accessed quickly and easily.
With MSUI, domain administrators can quickly carry out routine tasks such as changing settings, tracing messages, and analyzing security incidents from a single interface. This means that MSUI can replace many of the security and configuration tools you currently rely on. Ultimately, MSUI allows providers to add security services to their portfolio, enhancing their offering to customers.
The portal-based MSUI add-on is not just for the benefit of SIs and MSPs either. Secure email service and domain administration functions can be delegated to partners – or even end customers themselves. This delegation gives customers greater control of their email security – and lightens the workload of internal support and administration teams.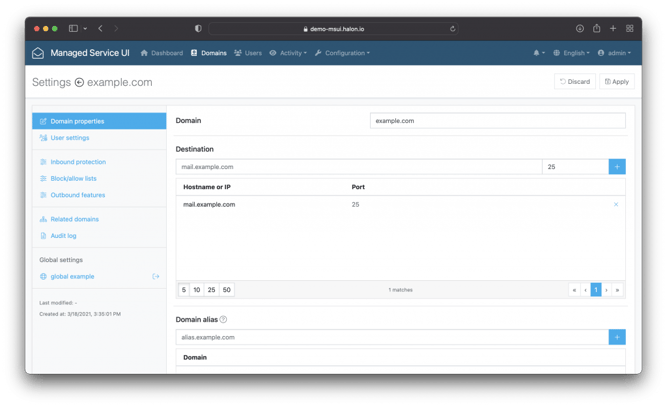 Why does MSUI matter?
MSUI solves two major problems – administrator efficiency and tool fatigue.
MSUI and administrator efficiency
Managing email systems and security is difficult at the best of times. For MSPs, this complexity is exponentially greater because they are dealing with multiple properties simultaneously.
One report found that 71% of security decision-makers believe the increasing amount of time they spend managing tools inhibits their ability to effectively defend against threats. This means that tool sprawl takes up too many admin resources and leaves customers exposed.
By consolidating tools into a single portal, MSUI simplifies tool management and allows administrators to do what they need from a central location. Because they no longer need to switch between tools to complete common tasks, administration becomes quicker, raising productivity. Customers are also less likely to be affected by human error.
Accelerating email security improvements
Email is mission-critical, so maintaining security is like walking a tightrope. You cannot risk downtime caused by a security breach, but equally taking services offline to roll out changes is disruptive and sometimes risky.
Testing and pre-staging are vital to minimizing risk, but this in itself is a significant drain on resources – particularly when managing multiple domains. In addition to managing and maintaining the production environment, email administrators must develop a parallel system for testing potential changes and improvements.
Halon's MSUI add-on and scriptable MTA offer a time-saving alternative. The "live staging" feature allows administrators to 'split' traffic, redirecting a small amount of production traffic through a virtual staging environment. Administrators can then accurately assess the impact of each change without disrupting email operations – and roll out improvements within seconds. In the event that an issue is discovered, the Halon MTA can roll back changes made in the production environment instantly.
These features allow administrators to test and deploy MTA config changes quickly, easily, and at lower risk to operations.
How do I get started with MSUI?
MSUI is an add-on component for Halon MTA. Any existing Halon customers should contact their account manager to arrange a demo and learn more about how their business can benefit from the add-on.
If you're not an existing Halon customer, get in touch! Our team is always happy to provide a demo of the complete Halon MTA platform so you can see where MSUI fits in – and how it will help you deliver a better secure email service to your clients.